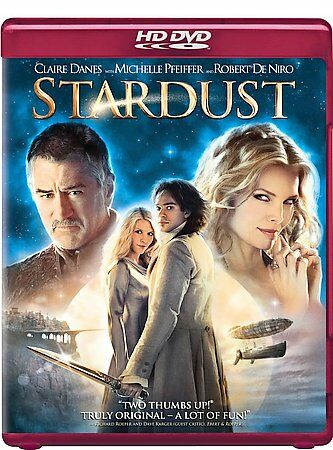 Stardust (2007) - Robert De Niro HD DVD
Stardust (2007)
HD DVD
codefree
"Scheming princes, wicked witches, flying pirates, celestial love, a pure-hearted hero, all in a magical land. What more do you want?" raves Today's Gene Shalit for Stardust, an epic tale starring Claire Danes with Michelle Pfeiffer and Robert De Niro.
In hopes of wooing a beautiful girl (Sienna Miller), Tristan (Charlie Cox) promises to bring her a falling star. But he's in for the adventure of his life when he discovers the star is actually a celestial beauty named Yvaine (Danes).
When an old witch Lamia (Pfeiffer) attempts to steal Yvaine's youth, Tristan must protect her at all costs, in this magical family adventure that will make you laugh out loud and believe in love again.
Starring :
Robert De Niro, Michelle Pfeiffer, Claire Danes
Director :
Matthew Vaughn
Running time : 127 Minutes
Language : English, Spanish, French  Dolby Digital Plus 5.1
---
Share this Product
---
More from this collection