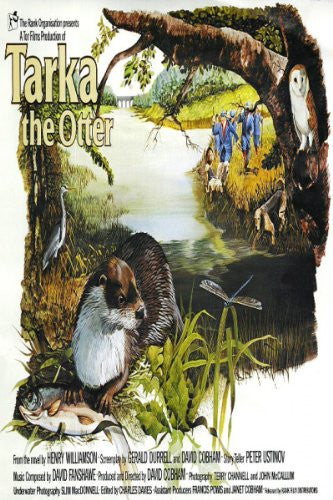 Tarka The Otter (1979) - Peter Ustinov DVD
Tarka The Otter (1979) 
Tarka The Otter, based on the Henry Williamson book, is the classic story of one otter's life in the English countryside.
A female otter is delighted when she gives birth to a son, Tarka. She lovingly protects him from danger, which results in her having to confront Deadlock, the evil leader of a pack of bloodthirsty hounds. Although she saves Tarka, she is killed, and Tarka, still a cub, sets off to fend for himself. Times are hard but Tarka eventually falls in love and raises a family. Eventually he is into a confrontation with the dreaded Dreadlock, in a tragic battle for the right to live.
With narration by Peter Ustinov and a screenplay by the naturalist and author Gerald Durrell Tarka the Otter is a British film classic. While a family film, it is a realistic portrayal of the countryside, and as such contains some scenes that young children and animal lovers may find upsetting.
Starring (Narration) :
Peter Ustinov, Peter Bennett
Director :
David Cobham
Running time : 87 Minutes
Language : English
---
Share this Product
---
More from this collection