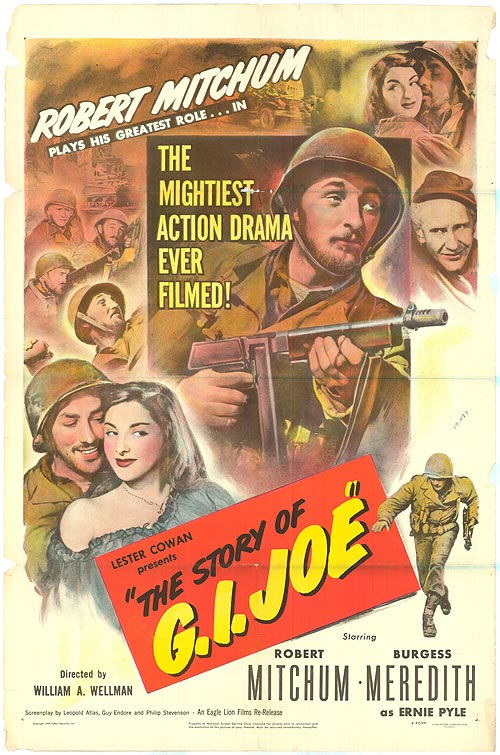 The Story Of G.I. Joe (1945) - Robert Mitchum DVD
The Story Of G.I. Joe (1945)
Robert Mitchum and Burgess Meredith star in this gripping World War II drama based on the newspaper columns of Pulitzer Prize-winning war correspondent Ernie Pyle.
Directed by legendary filmmaker William Wellman, The Story Of G.I. Joe depicts Ernie Pyle's (Burgess Meredith) experiences with the men of Company C of the 18th Infantry and their role in the invasion of Italy. The story begins as Pyle joins Captain Bill Walker (Robert Michem) and the men of Company C in the desert of North Africa and follows these gallant soldiers as they fight their way from the beaches of Sicily to the hills of sounthern Italy.
Few films have so honestly portrayed the brutal, harrowing existence of the infantry soldier in World War II. Director Wellman (Public Enemy, A Star Is Born) creates an unsentimental, often brutal - but always human - story of the mud, blood and death that surround the infantryman in combat.
Mitchum's performance made him a star and earned him an Oscar nomination as Best Supporting Actor, while the film was nominated for a total of four Academy Awards. The critics and film historians agree, The Story Of G.I. Joe is simply one of the best films ever made about World War II.
Starring :
Robert Mitchum, Burgess Meredith
Director :
William A. Wellman
Running time : 108 Minutes
Language : English
---
Share this Product
---
More from this collection