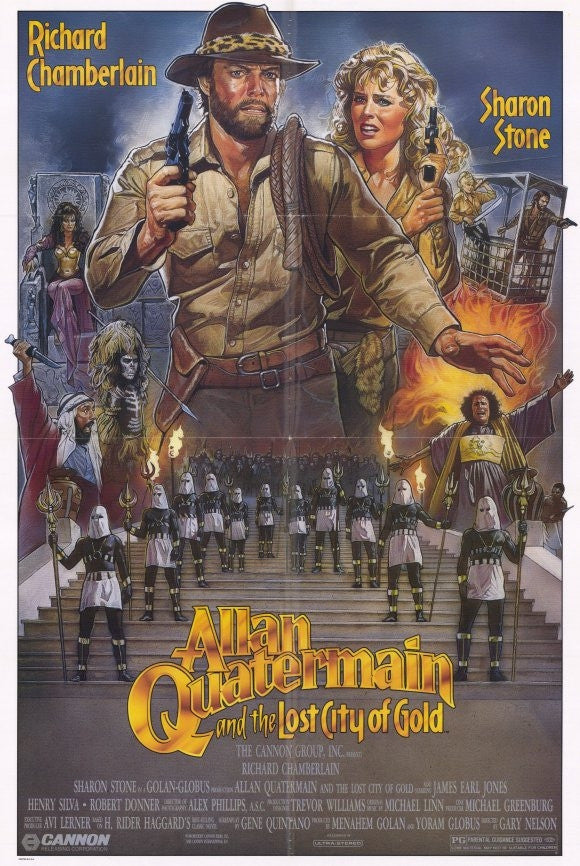 Allan Quatermain And The Lost City Of Gold (1986) DVD
Allan Quatermain And The Lost City Of Gold (1986)
Richard Chamberlain and Sharon Stone are back for more exciting adventures in the action packed Allan Quatermain and the Lost City of Gold.
Allan (Richard Chamberlain, Shogun) and Jesse Huston (Sharon Stone, Basic Instinct) are newly engaged and preparing to leave for America where they'll be married. Or so they think. Adventure comes in the form of a mysterious stranger appearing from the jungle who declares that Allan's presumably missing brother is, in fact, alive and has discovered The Lost City of Gold, a legendary city adorned with gold and riches beyond imagination.
Joining them on their adventure to the Lost City is Umslopgaas (James Earl Jones, Star Wars), a fierce warrior and ax-wielding friend. His friendship (and ax) will be needed as they battle to survive savage warriors and the dreaded evil High Priest, Agon (Henry Silva,Sharkey's Machine).
Cast members include Cassandra Peterson (Elvira, Mistress of the Night) and Robert Donner (Bite The Bullet) in a film directed by Gary Nelson (Freaky Friday, The Black Hole) from a screenplay by Gene Quintano and Lee Reynolds based on "Allan Quatermain" by H. Rider Haggard.#
Starring :
Richard Chamberlain, Sharon Stone, James Earl Jones
Director :
Gary Nelson
Running time : 99 Minutes
Language : English
---
Share this Product
---
More from this collection