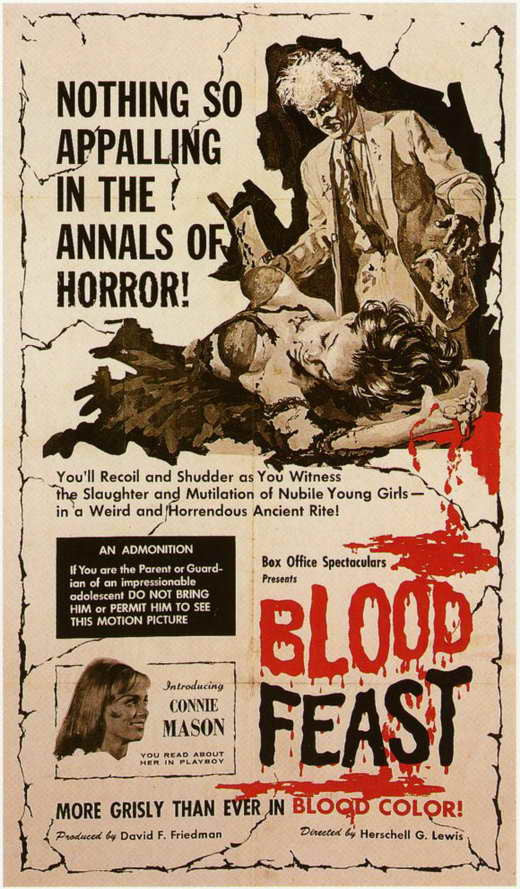 Blood Feast (1963) - Mal Arnold DVD
Blood Feast (1963) 
When Mrs. Fremont hires crackpot Egyptian cultist Fuad Ramses to cater a party for her daughter, Suzette, she commits the culinary catastrophe of the century! Fuad immediately prepares a "blood feast" made from the grisly body parts of nubile young women. Borrowing the leg of a gal taking a bath, the brains of a woman making out on the beach, and the tongue of a sexy blonde, Fuad and his machete plan on adding Suzette to the main course...
The world's first (and most notorious) "gore" film, Blood Feast is both shocking and hilarious. It's also the first of the infamous "blood trilogy" from director Herschell Gordon Lewis (The Wizard of Gore) and producer Dave Friedman (The Adult Version of Jekyll & Hyde) who followed this perverse classic with the equally twisted Two Thousand Maniacs! and Color Me Blood Red.
Starring William Kerwin ("Thomas Wood"), and Connie Mason ("You Saw Her in Playboy!"), and Scott Hall who couldn't remember his lines so reads them off the plam of his hand!
Starring :
Mal Arnold, Connie Mason, Thomas Wood
Director :
Herschell Gordon Lewis
Running time : 67 Minutes
Language : English
---
Share this Product
---
More from this collection