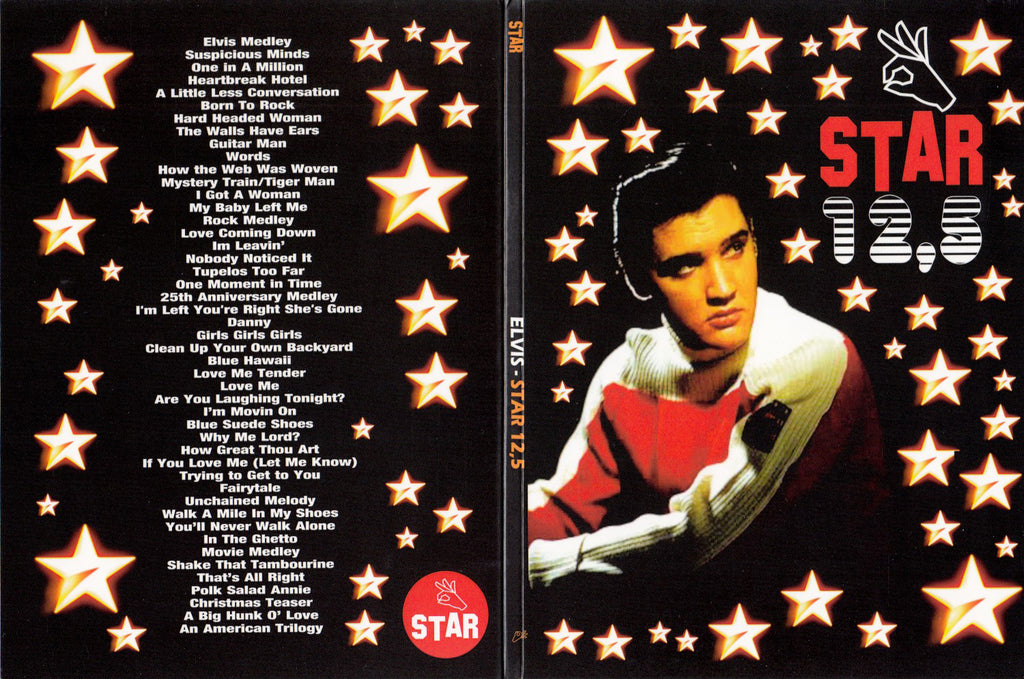 Elvis 12.5 - Anniversary STAR DVD
Elvis 12.5
It all started with the fantastic dvd 1ST 2ND 4EVER ain t it funny how time slips away, cause it has been over 12,5 years ago since STAR surprised Elvis fans worldwide!
To celebrate this milestone STAR releases the ultimate fan release with highlights from the amazing collection of the label, including alternate edits, fan favorites and some unreleased new and improved clips!
When using the menu of the dvd you will discover little known facts about lots and lots of the still growing STAR collection, every track has its own page where you can read more about the origin of the clips.
Lets have a party to celebrate STAR`S 12,5 years of editing!
Nearly 3 hours and 50 clips, for you to relive and enjoy!
Presented in deluxe dual layer disc.
Elvis Medley
Suspicious Minds 
One in A Million
Heartbreak Hotel
A Little Less Conversation
Born To Rock
Hard Headed Woman
The Walls Have Ears
Guitar Man
Words
How the Web Was Woven
Mystery Train/Tiger Man
I Got A Woman
My Baby Left Me
Rock Medley
Love Coming Down
Im Leaving
Nobody Noticed It
Tupelos Too Far
One Moment in Time
25th Anniversary Medley
I'm Left You're Right She's Gone
Danny
Girls Girls Girls
Clean Up Your Own Backyard
Blue Hawaii
Love Me Tender
Love Me
Are You Laughing Tonight?
I'm Movin On
Blue Suede Shoes
Why Me Lord?
How Great Thou Art
If You Love Me (Let Me Know)
Trying to Get to You
Fairytale
Unchained Melody
Walk A Mile In My Shoes
You`ll Never Walk Alone
In the Ghetto
Movie Medley
Shake That Tambourine
That `s All Right
Polk Salad Annie
Christmas Teaser
A Big Hunk O Love
An American Trilogy
---
Share this Product
---
More from this collection