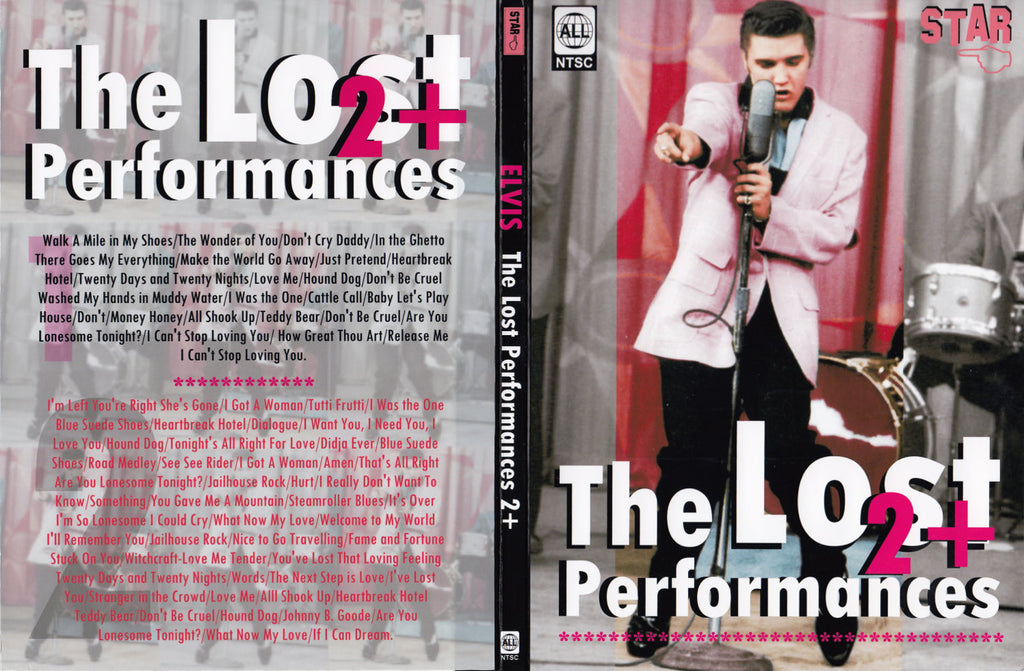 Elvis - The Lost Performances 2+ ( 2 DVD Set)
Elvis - The Lost Performances 2+

2 DVD Set

'The Lost Performances' 2 is a new DVD set with an additional 2.5 hours of new footage and edits, to compliment the original DVD release. A real bonus is the recently found I'm Left You're Right She's Gone live version, audio only with rare film. Includes newly found fifties footage, UNRELEASED so far as well as actual footage of Elvis singing the song Tonight's All Right For Love - the European version IMPOSSIBLE to find.

Didja Ever - Rare footage of Elvis on the set and meeting the queen of Thailand!
Blue Suede Shoes - The 'spliced' This is Elvis version, re-edited without the voice over.
Road Medley - Previously releases on the Alternate 68 Comeback, but this is a real gem, includes alternate footage and audio, a completely NEW road medley is made with outtakes.

Disc 1 - The Lost Performances

Las Vegas : 1970

Walk A Mile In My Shoes [12/08/1970 Dinner show]
The Wonder of You [13/08/1970 Dinner show]
Don't Cry Daddy / In The Ghetto [13/08/1970 Dinner show]
There Goes My Everything[11/08/1970 Dinner show]
Make The World Go Away [13/08/1970 Dinner show]
Just Pretend [11/08/1970 Dinner show]
Heartbreak Hotel[12/08/1970 Dinner show]
Twenty Days And Twenty Nights [12/08/1970 Dinner show]
Love Me[11/08/1970 Dinner show]
Hound Dog[11/08/1970 Dinner show]
Don't Be Cruel [12/08/1970 Dinner show]

Rehearsal : MGM Soundstage : LA 29/07/1970
I Washed My Hands In Muddy Water
I Was The One
Cattle Call
Baby Let's Play House
Don't
Money Honey

Hampton Coliseum : VA : 09/04/72
All Shook Up
Teddy Bear / Don't Be Cruel
Are You Lonesome Tonight? [Straight rendition complete with dialogue!]
I Can't Stop Loving You
You How Great Thou Art

Greensboro Coliseum - NC - 14/04/1972
Release Me [chug-a-lug version]

Rehearsal : MGM Soundstage : LA - 15/07/1970
I Can't Stop Loving You



Disc 2 - The Lost Performances 2

I Got A Woman
Tutti Frutti
I Was the One
Blue Suede Shoes
Heartbreak Hotel

Above tracks are all Dorsey Show performances, and very hard to find, complete edits make them very enjoyable!

Dialogue
I Want You, I Need You, I Love You
Hound Dog

Two tracks from the famous Milton Berle Show, although Hound Dog is well known, it nearly never is presented complete, here it is!

Tonight's All Right For Love (the European version IMPOSSIBLE to find!)
Didja Ever (Rare footage of Elvis on the set and meeting the queen of Thailand!)
Blue Suede Shoes (The 'spliced' This is Elvis version, re-edited without the voice over).
Road Medley (Previously released on the Alternate 68 Comeback, but this is a real gem, includes alternate footage and audio, a completely NEW road medley is made with outtakes).

Something
You Gave Me A Mountain
Steamroller Blues
It's Over
I'm So Lonesome I Could Cry
What Now My Love
Welcome to My World
I'll Remember You

All performances of the January 12 (alternate) have been re-edited with new remastered sound (2013)

Jailhouse Rock (includes outtakes from the movie)

Nice to Go Traveling
Fame and Fortune
Stuck On You
Witchcraft/Love Me Tender

From the Frank Sinatra Timex Welcome Home Elvis show : Only Elvis performances are included to make it more watchable then the complete show.

You've Lost That Loving Feeling
Twenty Days and Twenty Nights
Words
The Next Step Is Love (part)

August 7, 1970 rehearsals not released elsewhere in this format, again edited into complete performances.

I've Lost You (the forgotten version, as released on the original That's The Way it is

(the forgotten version, as released on the original That's The Way it is album, but in the movie another version was used.
Stranger in the Crowd, the August 13 live version, edited with new remastered sound, keep those speakers open!!!)

Stranger In The Crowd
Love Me
All Shook Up
Heartbreak Hotel
Teddy Bear/Don't Be Cruel
Hound Dog

On Tour rehearsals, these outtakes have been released on other DVDs, but here they are complete for the first time, without the annoying text in the picture! The sound is also much better!

Johnny B. Goode
Are You Lonesome Tonight?
What Now My Love
If I Can Dream

Last but not least some hard to find Elvis The Concert performances. Some were cut from the released DVD.

Bonus:

I Really Don't Want To Know (1977 CBS TV Special / 1970 Master)
Running time : Appr. 155 Minutes
---
Share this Product
---
More from this collection