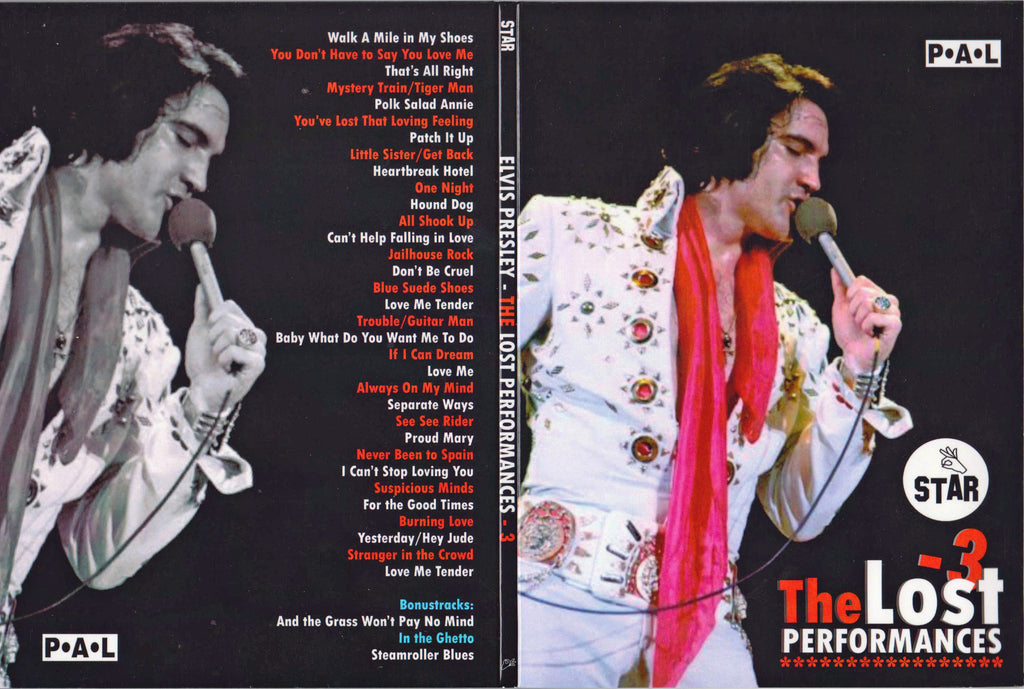 Elvis - The Lost Performances 3 DVD
Elvis - The Lost Performances 3 
PAL (European TV Standard)
Finally, with 'The Lost Performances 3' DVD we have new UNRELEASED footage. After the huge success of  The Lost Performances 2  here is a brand new release which includes some amazing stuff, all presented in WIDESCREEN!

It starts off just like the 'original' release, with an alternate version of 'Walk A Mile In My Shows' this time the August 12 M.S. version is used, and it looks more complete than ever. A great way to start the 'That's The Way It Is' 'treasures' segment, which includes some ultra rare, hard to find camera angles, in an amazing new sound (taken from master tapes).
Next up is a special 'ISO Cam' recording NBC did for their 1968 'Elvis' TV Special.
They used a 'hand-held' camera so as to be able to fill in gaps or errors that might have been made during the live control room switching. Seeing the show as a continuous feed from one hand-held camera captures the live experience of this June 29th, 6 pm show like never before. Of course, the sound of the tape has been edited with EXCELLENT sound.
On to the 'On Tour Segment' which has some great new edits on the March Rehearsal as well as excellent live performances;
'Live in Texas' includes unreleased performances of 'Suspicious Minds', 'For the Good Times' although the footage has some annoying text in the picture, a lot of work went into getting that to the background, so it is now a better viewing experience.
Also included is some great footage from 1971 dubbed with sound from 1972.
The program ends where it started with some more, cool 'That's The Way It Is' rehearsals for you to enjoy!
Walk A Mile in My Shoes (August 12 M.S.)

You Don't Have to Say You Love Me

That's All Right (August 10 O.S.)

Mystery Train/Tiger Man (August 10 O.S.)

Polk Salad Annie (August 10 O.S.)

You've Lost That Loving Feeling (August 11 M.S.)

Patch It Up (August 10 O.S.)

Little Sister/Get Back (August 12 M.S.)

Heartbreak Hotel

One Night

Hound Dog

All Shook Up

Can't Help Falling in Love

Jailhouse Rock

Don't Be Cruel

Blue Suede Shoes

Love Me Tender

Trouble/Guitar Man

Baby What Do You Want Me To Do

If I Can Dream

Love Me (Hampton Roads)

Always On My Mind

Separate Ways

See See Rider (Texas)

Proud Mary (Texas)

Never Been to Spain (Texas)

Heartbreak Hotel ('71 footage with '72 sound)

I Can't Stop Loving You ('71 footage with '72 sound)

Suspicious Minds (Texas)

Introductions by Elvis (Texas)

For the Good Times (Texas)

Burning Love (Texas)

Yesterday/Hey Jude

Stranger in the Crowd
Bonus-tracks:
And the Grass Won't Pay No Mind

In the Ghetto

Steamroller Blues

Suspicious Minds (Greensboro)

Love Me Tender (Greensboro)

Introductions by Elvis (Greensboro)

For the Good Times (Greensboro)
---
Share this Product
---
More from this collection