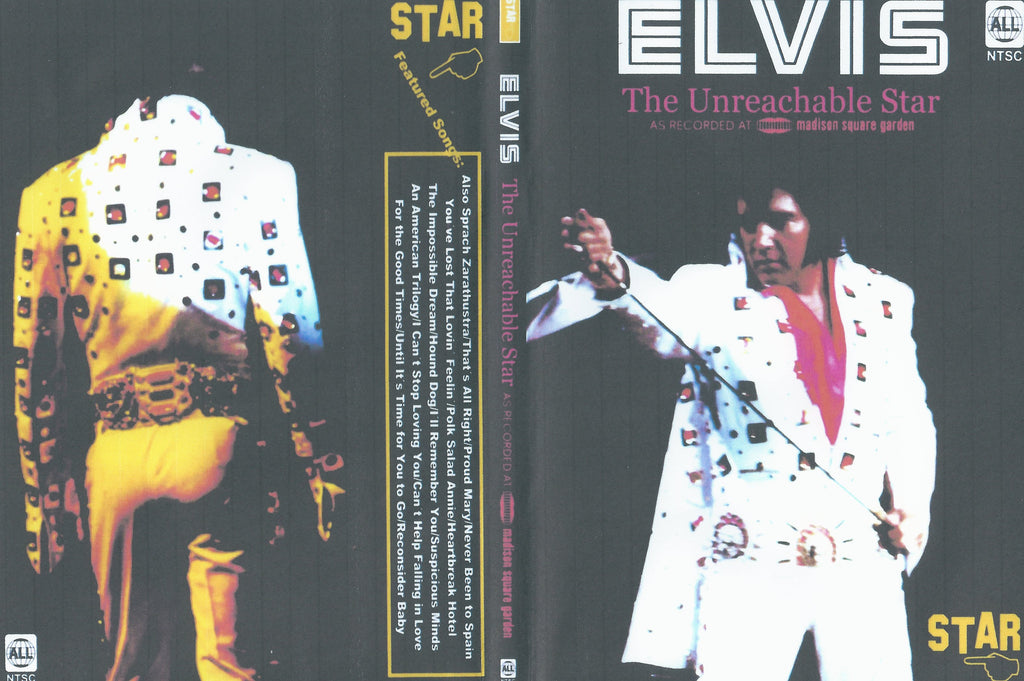 Elvis - The Unreachable Star DVD
Elvis - The Unreachable Star 
This set lets you enjoy the show how it was meant to be!
Footage has been used from three (3) shows and several sources to create the ultimate Madison Square Garden experience.
Obviously, the Sony-sourced film is by far the best here but with the included extra footage we now have a VERY watchable and VERY enjoyable concert experience on DVD.
Also included on this DVD are Madison Square Garden clips previously released on releases, now together on one disc, and some incredible footage from Opening Night (June 9).
Main Program | Opening Night: (re-edited footage, excellent sound, and picture)
Also Sprach Zarathustra
That's All Right
Proud Mary
Never Been to Spain
You've Lost That Lovin' Feelin'
Polk Salad Annie
Heartbreak Hotel
The Impossible Dream
Hound Dog
I'll Remember You
Suspicious Minds
An American Trilogy
I Can't Stop Loving You
Can't Help Falling In Love
For the Good Times (Elvis receives gold records)
Running Time 41:29 minutes
June 9, 1972 evening (re-edited, original sound/picture)
Jackie Kahane
Sweet Inspirations
That's All Right
Proud Mary
Polk Salad Annie
Running Time 8:44 minutes
June 10, 1972 afternoon 
Also Sprach Zarathustra
That's All Right
Polk Salad Annie
Hound Dog
I'll Remember You
An American Trilogy
Can't Help Falling In Love
Running Time 16:50 minutes
June 10, 1972 evening
MSG Press Conference
That's All Right
Proud Mary
The Impossible Dream
Running Time 13:47 minutes
Bonus Outtakes:
Until It's Time for You to Go
Reconsider Baby
I Can't Stop Loving You
Raw Pro-shot film  (08:45)
---
Share this Product
---
More from this collection