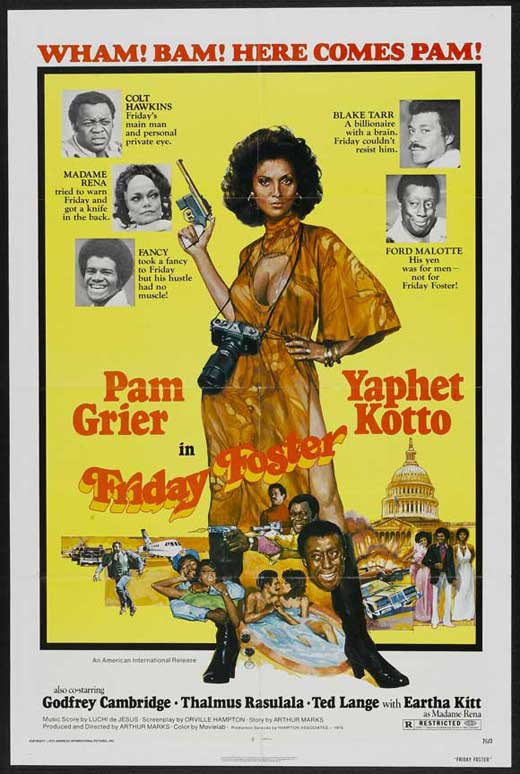 Friday Foster (1975) - Pam Grier DVD
Friday Foster (1975) 
Based on the syndicated newspaper comic strip of the same name, Grier stars as intrepid photojournalist Friday Foster. No sooner has she been warned by her boss that her personal involvement in the stories she's shooting will not end happily, Friday is witness to the attempted assassination of a prominent African-American figure Blake Tarr (Thalmus Rasulala, New Jack City) which is soon followed by the murder of her friend, Clorils (Rosalind Miles, Shaft's Big Score).
Why is Friday the target on the hit list? What does she know? Teaming with private detective Colt Hawkins (Yaphet Kotto, Alien, Blue Collar), the search for answers will lead them to a startling and action-packed finale.
Directed by Arthur Marks (Class of '74, Detroit 9000), from a screenplay by Orville Hampton, Friday Foster features supporting performances by Godfrey Cambridge (Watermelon Man, Cotton Comes To Harlem), Eartha Kitt (Boomerang, The Emperor's New Groove), Carl Weathers (Rocky, Predator), Scatman Crothers (The Shining), Ted Lange (TV's The Love Boat), Jim Backus (TV's Gilligan's Island, Mister Magoo).
Starring :
Pam Grier, Yaphet Kotto, Eartha Kitt, Carl Weathers, Scatman Crothers
Director :
Arthur Marks
Running time : 90 Minutes
Language : English
---
Share this Product
---
More from this collection