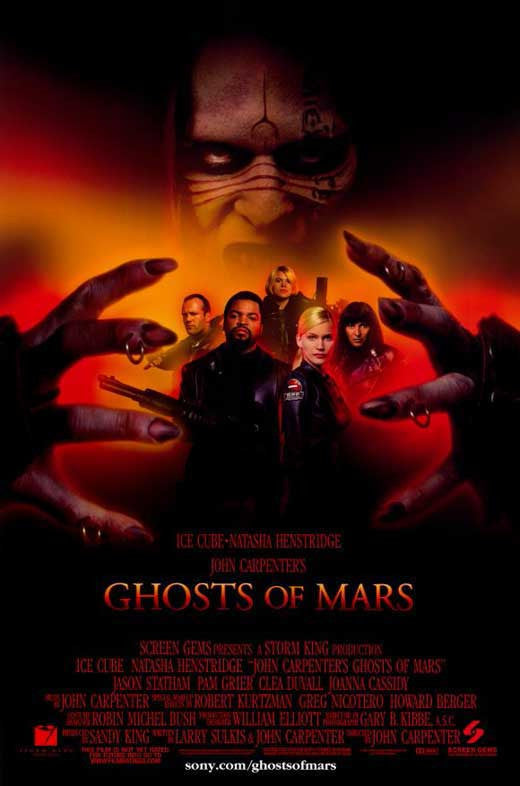 Ghosts Of Mars (2001) - John Carpenter DVD
Ghosts Of Mars (2001)
From John Carpenter, the master of horror behind 1998's hit John Carpenter's Vampires and classics like The Thing and Halloween, comes a sci-fi thriller full of explosive action and bone-chilling suspense.
Natasha Henstridge (Species) is Melanie Ballard, a headstrong police lieutenant on Mars in the year 2025. Humans have been colonizing and mining on the red planet for some time, but when Ballard and her squad are sent to a remote region to apprehend the dangerous criminal James "Desolation" Williams, played by Ice Cube (Three Kings), they discover that he's the least of their worries. The mining operations have unleashed a deadly army of Martian spirits who take over the bodies of humans and won't stop until they destroy all invaders of their planet.
With a stellar cast including Pam Grier (Jackie Brown), Jason Statham (Snatch) and Clea Duvall (The Faculty), as well as explosive special effects, John Carpenter's Ghosts Of Marsis an intergalactic terror fest like you've never seen.
Starring :
Natasha Henstridge, Pam Grier, Jason Statham
Director :
John Carpenter
Running time : 98 Minutes
Language : English
---
Share this Product
---
More from this collection