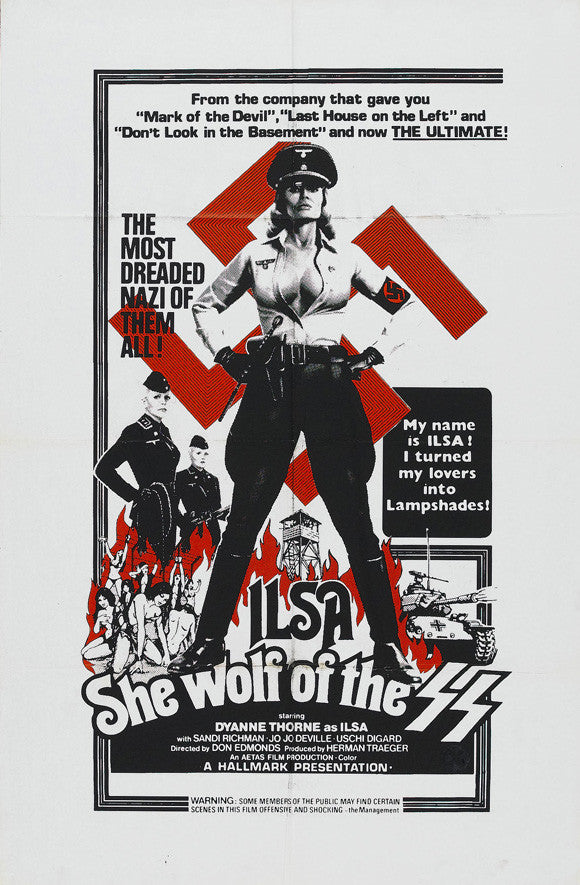 Ilsa - She Wolf Of The SS (1974) DVD
Ilsa - She Wolf Of The SS (1974)
Dyanne Thorne stars as Ilsa, the insatiable Nazi commandant whose sexual appetites are matched only by her lust for brutality. But as the Allied Forced advance into Germany, her depraved desires and sadistic experiments reach new heights of horror. What will be the final solution to Ilsa's reign of terror - the desperate actions of the Reich...or the heinous revenge of the damned?
Ilsa: She Wolf Of The SS is a film so controversial that even legendary exploitation producer David F. Friedman had his name removed! Shot in secrecy on the sets of Hogan's Heroes, this oft-banned epic is still as shocking today as it was over 25 years ago. Now fully restored from the original negative, this first film in the notorious Ilsa series is presented completely uncut and uncensored for the first time ever!
Starring :
Dyanne Thorne, Wolfgang Roehm
Director :
Don Edmonds
Running time : 96 Minutes
Language : English
ALSO AVAILABLE AS DIGITAL DOWNLOAD !!! 
---
Share this Product
---
More from this collection