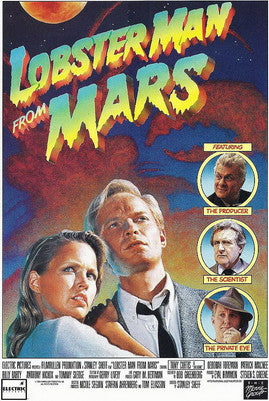 Lobster Man From Mars (1989) - Tony Curtis DVD
Lobster Man From Mars (1989) 
It boggles the mind... giant seafood from outer space trying to steal the earth's air. This absurd sci-fi farce is the stuff of which cult classics are made.
Movie mogul J.P. Shelldrake (Tony Curtis) discovers he's in desperate need of a tax loss to keep the I.R.S. off his back. He had to find a "loser" motion picture for his company to release.
In walks boy producer, writer, director Stevie Horowitz with his homemade epic Lobster Man from Mars. Producer Stevie has liberally "borrowed" almost every comedy bit ever written for his zany, Martian-invades-earth parody. After a screening, Shelldrake believes it's the perfect film for his needs.
Snicker and chuckle your way through this uproarious comedy to find out who actually gets the last laugh.
Starring :
Tony Curtis, Patrick McNee, Anthony Hickox
Director :
Stanley Sheff
Running time : 82 Minutes
Language : English
---
Share this Product
---
More from this collection