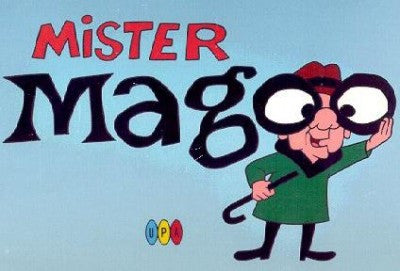 Mr. Magoo : The Famous Adventures Of Mr. Magoo (1964) 2 DVD Set
Mr. Magoo : The Famous Adventures Of Mr. Magoo (1964) 
2 DVD Set
Collection never-before released on DVD
Animated series featuring Jim Backus's Mr. Magoo character in half-hour adaptations of classic stories for children. Praised by both critics and educators, and well-remembered by fans, the program won a prestigious George Foster Peabody award in 1965.
The Famous Adventures of Mr. Magoo is an animated television series, produced by United Productions of America, which aired for one season (1964 –1965). The television series was based on the original cartoon of the same name, with Jim Backus reprising the voice over of the role he did on TV: while doing this show, he continued with the nighttime show Gilligan's Island.

Unlike the theatrical cartoons, which focused on the extremely nearsighted Quincy Magoo's bumbling, the show featured the Magoo character as an actor in adaptations of such literary classics as Don Quixote and Gunga Din. Each of these roles was played seriously, with few if any references to Magoo's nearsightedness; however, introductory segments in each program featured Magoo backstage stumbling into scenery and talking to props, thus connecting the older cartoons to this series. Some stories were contained in a single half-hour episode, but others ran to two and even four episodes.

The series was inspired by the success of the 1962 television special, Mr. Magoo's Christmas Carol, a serious remake of the Charles Dickens classic with Magoo playing Ebenezer Scrooge.
Episodes :
Episode 1: Mr. Magoo's William Tell
Original Air Date—19 September 1964

Episode 2: Mr. Magoo's Treasure Island: Part 1 Part 2
Original Air Date—26 September 1964 3 October 1964

Episode 4: Mr. Magoo's Gunga Din
Original Air Date—10 October 1964

Episode 5: Mr. Magoo's Moby Dick
Original Air Date—17 October 1964

Episode 6: Mr. Magoo's The Three Musketeers: Part 1 Part 2
Original Air Date—24 October 1964 7 November 1964

Episode 12: Mr. Magoo's Don Quixote de la Mancha: Part 1 Part 2
Original Air Date—19 December 1964 20 March 1965

Episode 13: Mr. Magoo's Cyrano de Bergerac
Original Air Date—26 December 1964

Episode 14: Mr. Magoo's Little Snow White: Part 1 Part 2
Original Air Date—2 January 1965 9 January 1965

Episode 16: Mr. Magoo's Rip Van Winkle
Original Air Date—16 January 1965

Episode 18: Mr. Magoo's A Midsummer Night's Dream
Original Air Date—13 February 1965

Episode 22: Mr. Magoo's Captain Kidd
Original Air Date—27 March 1965

Episode 23: Mr. Magoo's Noah's Ark
Original Air Date—3 April 1965

Episode 25: Mr. Magoo's King Arthur
Original Air Date—17 April 1965

Episode 26: Mr. Magoo's Paul Revere
Original Air Date—24 April 1965
Starring : 
Jim Backus, Joan Gardner
Running Time : Appr. 30 Minutes each
Language : English
---
Share this Product
---
More from this collection