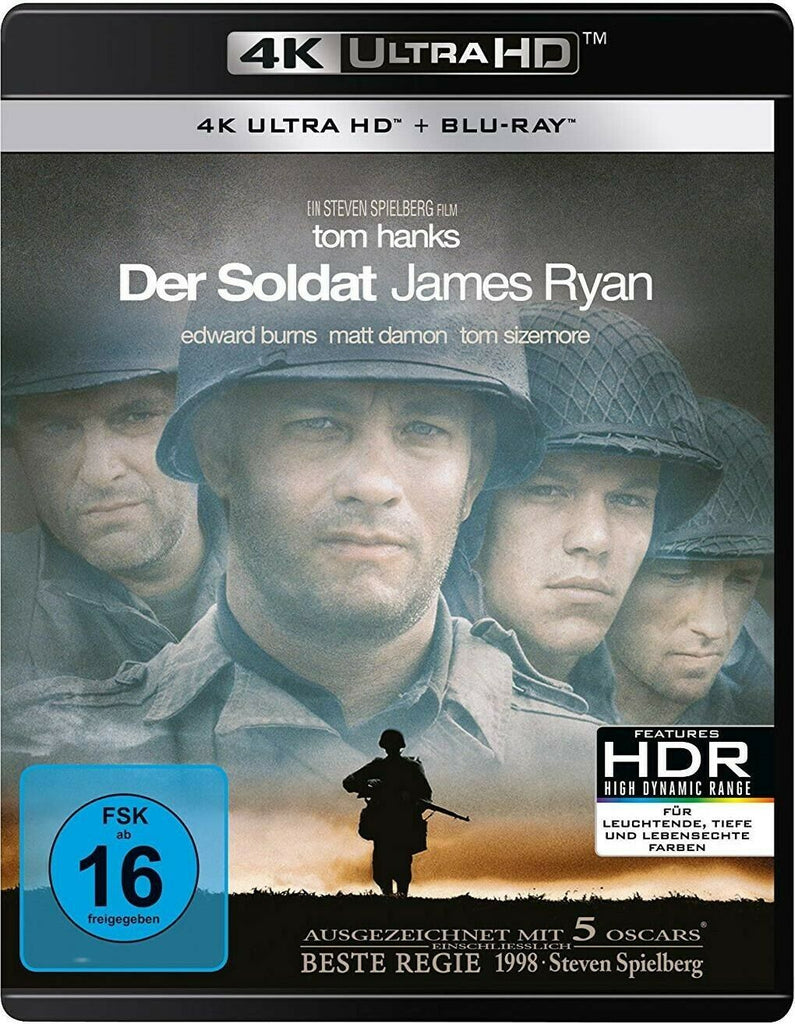 Private Ryan (1998) - Tom Hanks 4K Ultra HD + Blu-ray
Private Ryan (1998)
4K Ultra HD + Blu-ray
Region code A, B, C
Internationally acclaimed by critics and audiences alike, Steven Spielberg's Saving Private Ryan is an unforgettable film achievement that has had profound and lasting impact throughout the world.
Winner of five Academy Awards including Best Director, the film also captured Oscars for Cinematography, Film Editing, Sound and Sound Effects Editing. More than 70 critics and critics' groups in New York, Chicago, Dallas Ft-Worth and Great Britain named the film Best Picture of the Year, while the Los Angeles, Toronto and Broadcast Film Critics honored it with both Best Picture and Best Director awards. In addition, Spielberg received his third Directors Guild of America Award, the American Legion "The Spirit of Normandy" Award, a USO Merit Award from the USO of Metropolitan Washington, as well as the highest civilian public service award from the Department of the Army. Selected for more than 160 Top Ten lists, Saving Private Ryan's other honors include Golden Globes for Best Picture (Drama) and Best Director, the Producers Guild of America Award and ten nominations from the British Academy Film Awards. Saving Private Ryan was the top-grossing motion picture of 1998.
Seen through the eyes of a squad of American soldiers, the story begins with World War II's historic D-Day invasion, then moves beyond the beach as the men embark on a dangerous special mission. Captain John Miller (Tom Hanks) must take his men behind enemy lines to find Private James Ryan, whose three brothers have been killed in combat. Faced with impossible odds, the men question their orders. Why are eight men risking their lives to save just one? Surrounded by the brutal realities of war, each man searches for his own answer - and the strength to triumph over an uncertain future with honor, decency and courage.
Starring :
Tom Hanks, Edward Burns, Matt Damon, Tom Sizemore, Vin Diesel
Director :
Steven Spielberg
Running time : 169 Minutes
Language : English, German  DTS-HD Master Audio 5.1
---
Share this Product
---
More from this collection