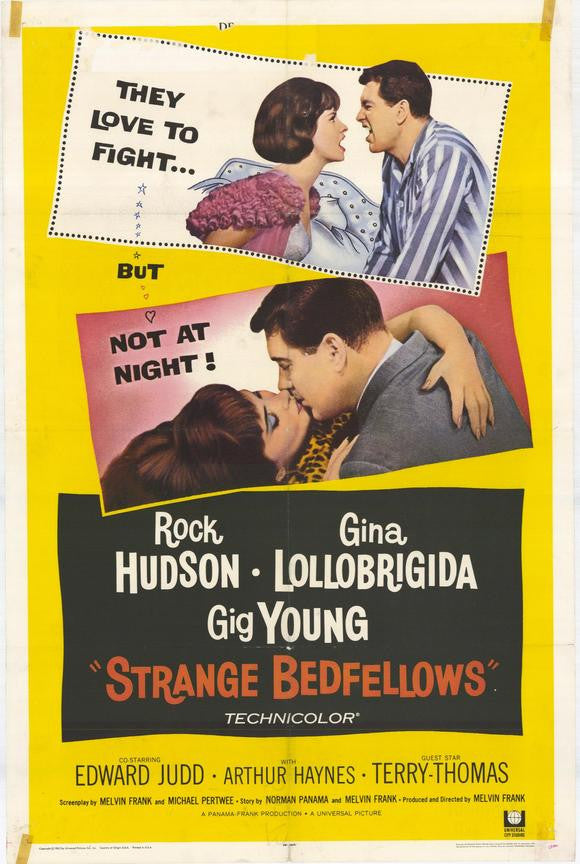 Strange Bedfellows (1965) - Rock Hudson DVD
Strange Bedfellows (1965)
Screen great Rock Hudson and Italian bombshell Gina Lollobrigida are an estranged couple on the verge of a riotous reconciliation in this delightful comic confection.
Carter Harrison (Hudson) is a high-powered company exec who needs to polish up his public image. When a P.R. expert (Gig Young) tells him the answer lies in patching up his shaky marriage, Carter jets off to London to re-kindle the affections of his fiery Italian wife Tony (Lollobrigida)-who is already planning her second marriage. But even as she begins to repeat the outrageously eccentric behaviors that split them up in the first place, Carter finds himself falling in love with the irresistible Tony all over again.
A marvelous comic treat livened up with slapstick antics and hilarious sight gags, Strange Bedfellows is "a bright and rollicking comedy" (The Film Daily).
Starring :
Rock Hudson, Gina Lollobrigida, Gig Young
Director :
Melvin Frank
Running time : 99 Minutes
Language : English
---
Share this Product
---
More from this collection