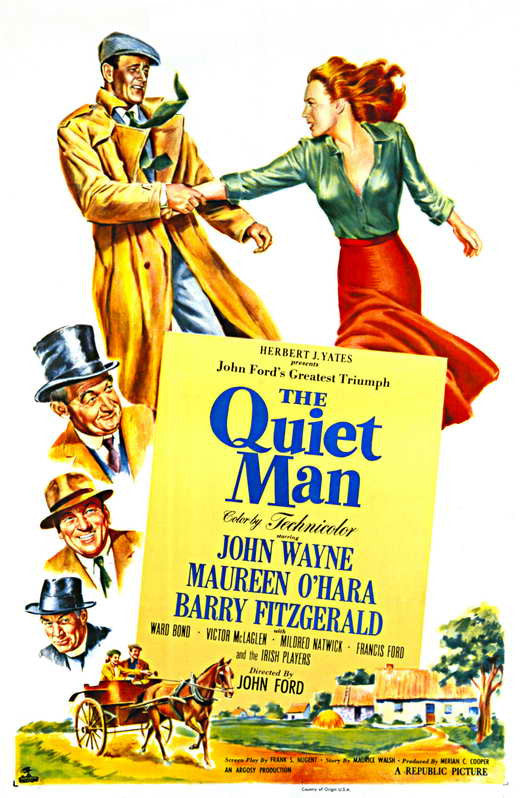 The Quiet Man (1952) - John Wayne DVD
The Quiet Man (1952)
John Ford's The Quiet Man celebrates one of Hollywood's most romantic and enduring epics. The winner of the first American feature to be filmed in Ireland's picturesque countryside, this masterpiece is imbued with Ford's love of Ireland and its people.
Sean Thornton (John Wayne) is an American boxer who swears off fighting after he accidentally kills an opponent in the ring. Returning to the Irish town of his youth, he reclaims his family's homestead and falls in love with the fiery Mary Kate (Maureen O'Hara). When she insists Sean conduct his courtship in a proper Irish manner, he has to take on matchmaker Barry Fitzgerald (Michaeleen Oge Flynn) as their chaperone and face her brother Squire "Red" Will Danaher (Victor McLaglen). Will refuses to consent to their marriage, or to honor the tradition of paying a dowry to the husband, but Sean couldn't care less about that. When Mary Kate accuses him of being a coward for not standing up to her brother and walks out on him. Sean is finally ready to take matters in his own hands. The resulting fistfight erupts into the longest brawl ever filmed, followed by one of the most memorable reconciliations in movie history!
The Quiet Man won two Academy Awards including Best Director (Ford) and Best Cinematography, and received five more nominations, including Best Picture, Best Screenplay and Best Supporting Actor (McLaglen).
Starring :
John Wayne, Maureen O´Hara, Ward Bond
Director :
John Ford
Running time : 129 Minutes
Language : English
---
Share this Product
---
More from this collection