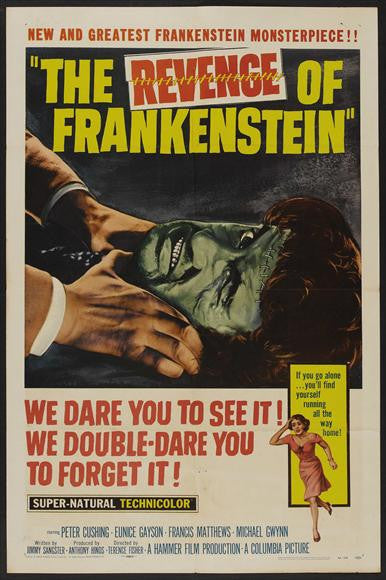 The Revenge Of Frankenstein (1958) - Peter Cushing DVD
The Revenge Of Frankenstein (1958)
Peter Cushing reprises his famous role as Baron Victor Frankenstein in this Hammer horror classic, The Revenge Of Frankenstein.
Rescued from the guillotine by his devoted dwarf Fritz (Oscar Quitak), the Baron relocates to Carlbruck, where he becomes a celebrated society physician, Dr. Stein. But under the guise of charity work, the good doctor continues his gruesome experiments, this time planning to transplant Fritz's brain into his latest creation: a normal, healthy body (Michael Gwynn).
When Hammer released The Curse Of Frankenstein in 1957, it was a success for the studio and made an international star out of Peter Cushing. In 1958, Hammer produced this sequel The Revenge Of Frankenstein with Cushing once again in the title role. The critics were delighted with both the film and its star. "Cushing is the new Karloff."
Starring :
Peter Cushing, Francis Matthews
Director :
Terence Fisher
Running time : 90 Minutes
Language : English
---
Share this Product
---
More from this collection