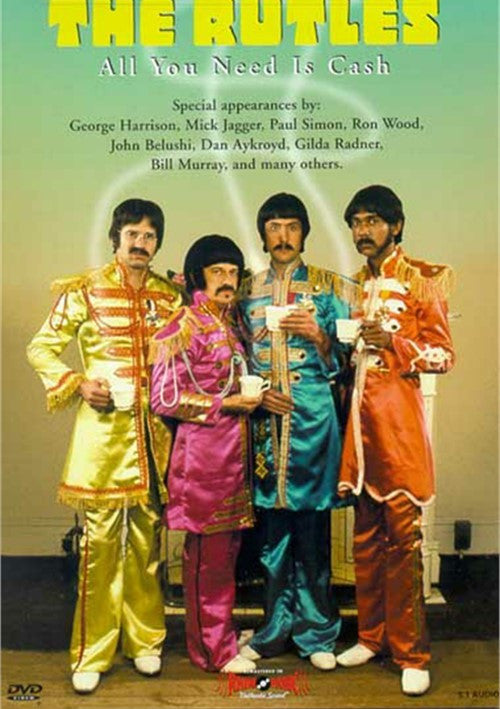 The Rutles - All You Need Is Cash (1978) DVD
The Rutles - All You Need Is Cash (1978)  
Follow four-mop topped young Brits whose right choice of trousers (tight) gets them a lifetime recording contract despite their lack of musical ability. Overcoming that, they produce monumental albums like Sgt. Rutter's Only Darts Club Band, which, along with appearances on The Ed Sullivan Show and a concert at Che Stadium, cement their world domination of pop music. But, as with their Fab Four namesake, artistic differences and various other problems threaten to derail Rutlemania.
This Beatles parody, the brainchild of Monty Python's Eric Idle, originally aired as a skit on Saturday Night Live. Audience response was so overwhelming that SNL producer Lorne Michaels decided to go ahead with a full production, enlisting SNL players John Belushi, Gilda Radner, Bill Murray, and Dan Aykroyd, to name a few.
Includes The Rutles' wonderfully warped songs Ouch!, Piggy In The Middle, Cheese And Onions, Get Up And Go and many other twisted yet familiar-sounding tunes.
Starring :
The Rutles, Billy Murray, John Belushi, Dan Aykroyd, Eric Idle, Mick Jagger
Director :
Eric Idle, Gary Weis
Running time : 70 Minutes
Language : English
---
Share this Product
---
More from this collection