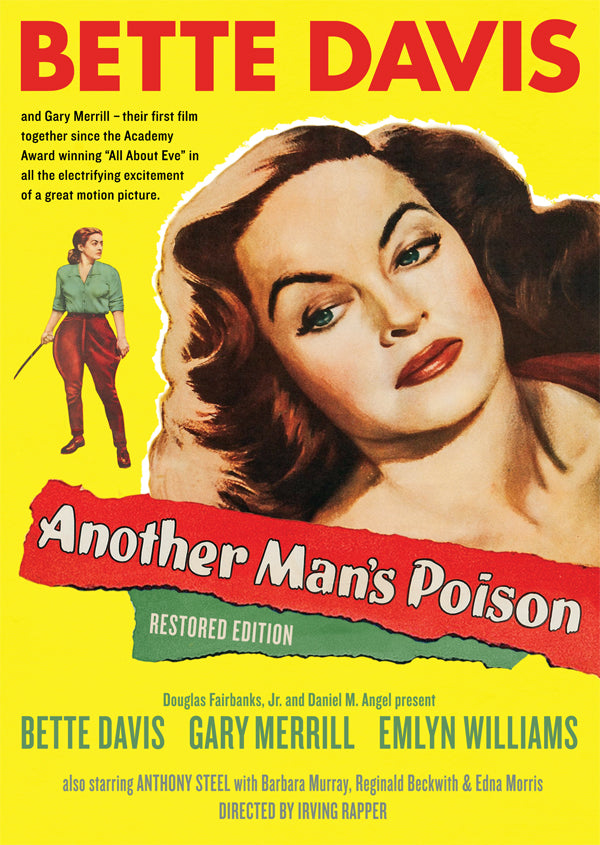 Another Man´s Poison (1951) - Bette Davis DVD
Another Man´s Poison (1951)
Bette Davis pulls out all the stops as Janet Frobisher, a devious, selfish vixen who will stop at nothing to get what she wants in Another Man's Poison, a drama deliciously full of unexpected twists and turns.
Frobisher is a rich mystery writer who falls in love with her secretary's fiance and lures him away. But her happiness is far from ensured. She first must deal with a long forgotten exconvict husband who tries to blackmail her, and then she must scheme her way out of the clutches of her husband's ruthless partner, George Bates (Gary Merrill, Davis's husband in real life).
Davis proves why she remains such an acting legend as she dominates the screen in the kind of part that only she could bring to life so vividly.
Starring :
Bette Davis, Anthony Steel
Director :
Irving Rapper
Running time : 90 Minutes
Language : English
---
Share this Product
---
More from this collection