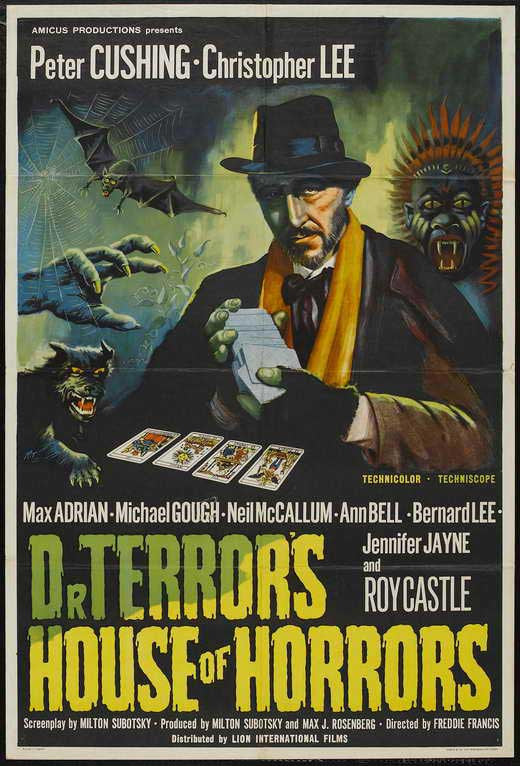 Dr. Terror´s House Of Horrors (1964) - Christopher Lee DVD
Dr. Terror´s House Of Horrors (1964)
Five men who board a train as strangers will soon find commonality when joined by a sixth passenger, the mysterious traveler known as Dr. Schreck (Peter Cushing). Watch as their destinies unfold in the chilling and "life"-altering horror-thrill ride, Dr. Terror's House of Horrors.
To while away the time, the good doctor offers to read each passenger's Tarot cards. The innocent parlor game has an unexpected conclusion as each reading unfolds on screen as a terrifying vignette (a werewolf on the loose; a vengeful creeping vine; a tale of voodoo; a disembodied hand coming to life; and a vampire story) the results of which are unpredictable and shocking.
From director Freddie Francis (The Doctor and The Devils, Dracula Has Risen From The Grave, Tales From The Crypt) and starring horror film royalty Peter Cushing (Horror ofDracula, Evil of Frankenstein) and Christopher Lee (Horror of Dracula, Lord of the Rings), Dr. Terror's House of Horrors features a stellar cast of supporting players including Donald Sutherland (Robert Altman's M.A.S.H., Bernardo Bertolucci's 1900), Max Adrian (Ken Russell's The Devils and The Boyfriend) and Michael Cough (Horror of Dracula,Tim Burton's Batman andy Hollow).
Starring :
Christopher Lee, Peter Cushing, Donald Sutherland
Director :
Freddie Francis
Running time : 98 Minutes
Language : English
---
Share this Product
---
More from this collection