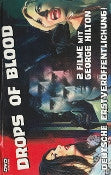 Drops Of Blood - 2 classic movies with George Hilton DVD
Drops Of Blood - 2 movies with George Hilton
1. The Case Of The Blood Iris (1972)
Starring :
George Hilton, Edwige Fenech


Director :
Giuliano Carnimero
Synopsis :
Beautiful young model Jennifer Lansbury and her goofy friend Marilyn Ricci move into a swanky high-rise apartment after the previous tenant gets brutally murdered. Pretty soon Jennifer is being stalked by the mysterious killer. Probable suspects include a predatory lesbian neighbor, a weird old woman and her deformed son, and even the building's handsome architect who suffers from a severe blood phobia.
2. The Case Of The Scorpions Tail (1971)
Starring :
George Hilton, Anita Strindberg
Director :
Sergio Martino
Running time : 91 + 91 Min.
Language : English, German, Italian Dolby Digital 2.0
Format : Widescreen 2.35:1
Synopsis :
The Case of the Scorpion's Tail begins with the mysterious death of a millionaire and spirals into the murder of his suddenly rich wife, which draws the attention of a dogged investigator, who follows a trail of blood to the bitter end.
---
Share this Product
---
More from this collection