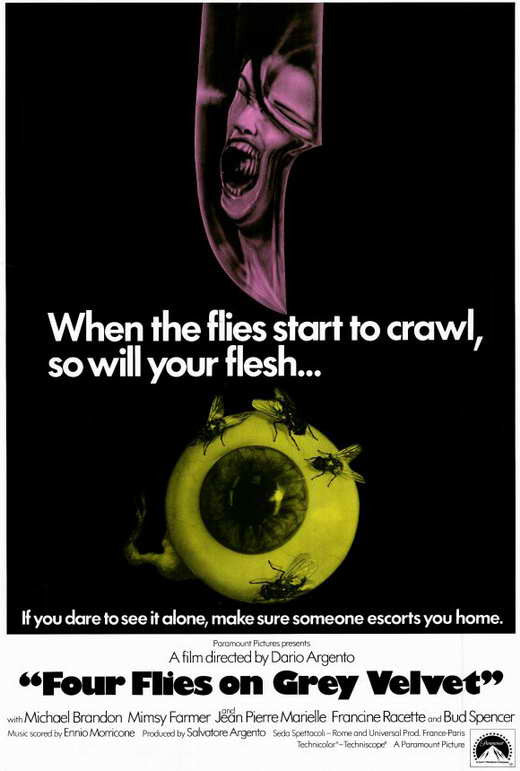 Four Flies On Grey Velvet (1971) - Dario Argento DVD
Four Flies On Grey Velvet (1971)
Roberto (Michael Brandon) is a young handsome drummer playing in a rock band. For the last week he has been stalked by a mysterious guy with dark sunglasses. Roberto decides to put an end to this and follows his stalker in a deserted theatre. He confronts the man and accidentally kills him.
At the same time, another mysterious stalker, with a weird mask, appears and takes pictures of the accidental murder. For Roberto and his girlfriend Mina (Mimsy Farmer) it's the beginning of a nightmare, and more murders will ensue soon.
Four Flies on Grey Velvet is the last film of Dario Argento's so called "Animal Trilogy". Beside being a true classic of the Giallo genre, this is by far the rarest of Argento's movies, since it had never been officially released before, in any form anywhere.
Now Four Flies on Grey Velvet finally returns, fully uncut and with an astounding picture and sound quality. A long and accurate restoration work was amde directly on the original negative elements, which had remained untouched for more than 30 years.
Starring :
Michael Brandon, Mimsy Farmer, Bud Spencer
Director :
Dario Argento
Running time : 102 Minutes
Language : English, Italian
---
Share this Product
---
More from this collection