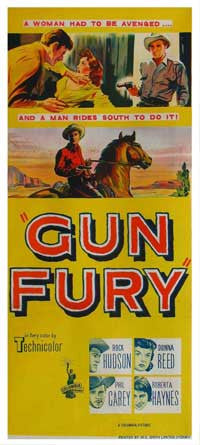 Gun Fury (1953) - Rock Hudson DVD
Gun Fury (1953)
Director Raoul Walsh's Gun Fury is White Heat goes West, a rough-and-tumbleweed tale of a psychotic gunman and the hero determined to stop him. In White Heat, Walsh told the story from the viewpoint of the villain (James Cagney). Here, the famed action director centers the story on the hero, Civil War veteran Ben Warren (Rock Hudson).
As the story opens, Ben no longer has the stomach for bloodshed. Eager to give peaceful means a try, he aims to build a new life out West with his fiancé (Donna Reed, From Here to Eternity). But his non-violence is put to the test when an outlaw ex-Confederate (Phil Carey) and his gang (including Lee Marvin, The Big Heat) kidnap Ben's bride-to-be.
This film was originally shot in 3-D, so many scenes were designed to enhance the illusion of depth. Director Walsh sends fists, rocks, hoofs, and a rattlesnake plunging toward the viewer, adding excitement to this compellingly watchable, hard-hitting Western morality tale about a man who can only be pushed so far.
Starring :
Rock Hudson, Donna Reed, Lee Marvin
Director :
Raoul Walsh
Running time : 82 Minutes
Language : English
---
Share this Product
---
More from this collection