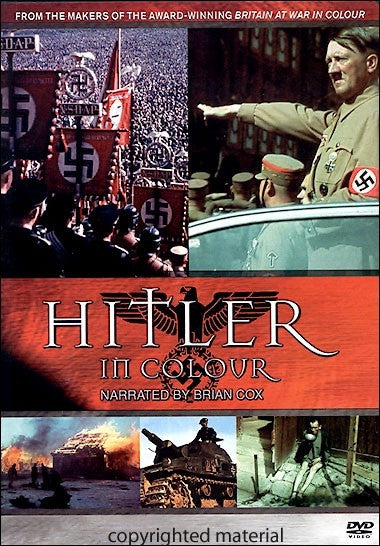 Hitler In Colour (2004) DVD
Hitler In Colour (2004)
One man. One people. One evil dream. With original color film and contemporary diaries and letters, Hitler In Colour recalls the traumatic and destructive 12 years of Hitler's Third Reich. It tells the story from the perspective of those who lived through it: the leaders and the people, the oppressors and the victims, and the guilty and the innocent.
Hitler In Colour follows the story of Hitler's brutal rise to power, his transformation of Germany into a Nazi state, the inhumane treatment of Germany's Jewish community, and it takes an in-depth look at his relationship with his mistress Eva Braun. It tells the story of a nation at war, from the invasion of Poland to the first defeat in the Battle of Britain, from the turning point at Stalingrad to the end of Hitler's Nazi dream with the fall of Berlin.
Throughout, Hitler In Colour features unseen original color archive film, collected over ten years of research from all over the world, woven with contemporary witness material and original sound recordings to illustrate the reality of battle, the complexity of human emotions and the crimes and sacrifices of the Nazi era.
Narrated by : Brian Cox
Running time : 80 Minutes
Language : English
---
Share this Product
---
More from this collection