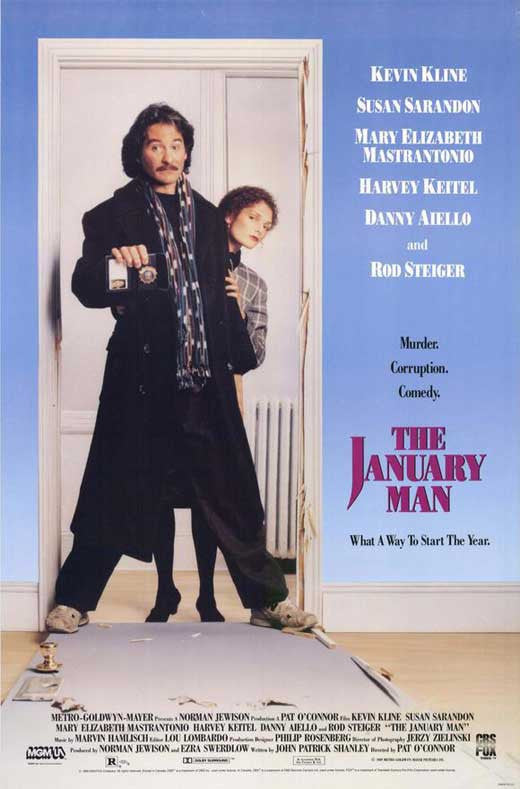 January Man (1989) - Kevin Kline DVD
January Man (1989) 
Oscar® winners Kevin Kline and Susan Sarandon team with Mary Elizabeth Mastrantonio, Harvey Keitel, Danny Aiello, Rod Steiger and Alan Rickman for this intense thriller about a serial killer on the loose in Manhattan. Directed by Pat O'Connor (Sweet November, Inventing The Abbotts) and written by Academy Award® winner John Patrick Shanley(Moonstruck), The January Man is an edge-of-your-seat suspense ride that'll prey on your thoughts as well as your fears.
Ex-cop Mick Starkey (Kline) is the only man in New York brilliant enough to find a vicious serial killer. But returning to his job is as complicated an undertaking as nabbing the culprit. Forced to work alongside the brother (Keitel) who fired him, Nick also has to come to terms with the ex-girlfriend (Sarandon) who married his brother, and the mayor's young daughter (Mastrantonio) who's fallen in love with him.
But with time running out and everyone counting on him, Nick sets aside his personal turmoil to root out the killer - until that, too, involves a personal stake he'll never be able to accept losing.
Starring :
Kevin Kline, Susan Sarandon
Director :
Pat O´Connor
Running time : 97 Minutes
Language : English
---
Share this Product
---
More from this collection