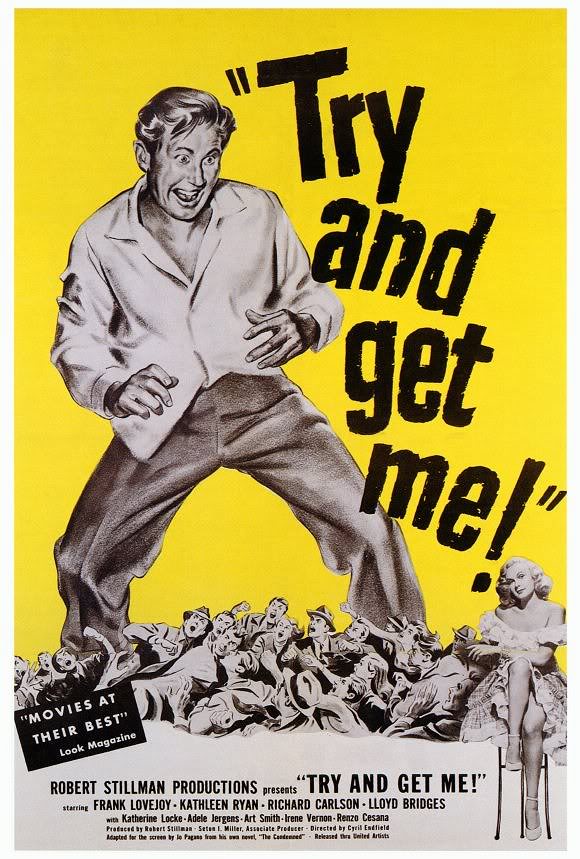 Try And Get Me AKA The Sound Of Fury (1950) - Frank Lovejoy DVD
Try And Get Me AKA The Sound Of Fury (1950) 
A crime film in the tradition of the great Fritz Lang (Fury) and Anthony Mann (Strangers in the Night), Try And Get Me is a taut tale directed by Cyril Endfield (Sands of the Kalahari) inspired by actual events.
Based on the Jo Pagano novel The Condemned (itself co-opting the real-life Brooke Hart kidnapping and murder case), Try and Get Me stars Lloyd Bridges (TV's Sea Hunt) as the deranged, cold-as-ice Jerry Slocum, and Frank Lovejoy (In a Lonely Place) as Howard Tyler, Jerry's unwitting accomplice.
Howard's life begins to spiral out of control when he's sucked into a kidnapping plot that turns tragic. Richard Carlson (Creature from the Black Lagoon) portrays Gil Stanton, a gung-ho journalist who may have crossed ethical boundaries when his series of newspaper articles leads to even further tragedy.
Try And Get Me is a first-rate noir with more on its mind than thrills - which there are plenty of - as it navigates heady themes such as journalistic ethics and vigilante justice. The film also stars Kathleen Ryan (Captain Lightfoot), Katherine Locke (The Snake Pit), Adele Jergens (Day the World Ended) and Art Smith (Letter From An Unknown Woman).
Starring :
Frank Lovejoy, Kathleen Ryan, Richard Carlson
Director :
Cy Endfield
Running time : 92 Minutes
Language : English
---
Share this Product
---
More from this collection